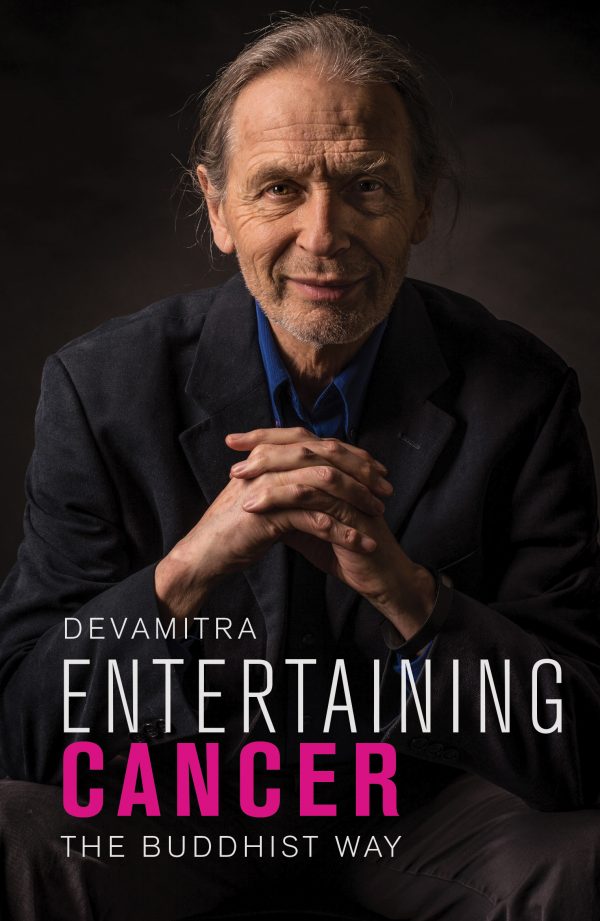 You're diagnosed with an aggressive cancer – what do you do?
Devamitra – English actor and Buddhist teacher – describes the discomforts and indignities of being treated for prostate cancer. He also draws on the deep well of his Buddhist practice to work with his mind and meet fear, uncertainty and frailty with resolve. It is an entertaining read, full of wit and fantastically funny dialogue. If you or someone you know is facing a cancer diagnosis, this book will help light your way.
'This is a remarkable book – honest, lucid, unflinching, funny and radical in its willingness to confront the facts of life and death. Devamitra tells the story of prostate cancer, and how his Buddhist practice met the challenges of diagnosis and treatment, even how cancer led to the deepening of his practice and his love of life.' – Maitreyabandhu, author of Life with Full Attention and The Journey and the Guide
'Who would have thought that having cancer could be so instructive, and at times so amusing? Devamitra writes of his experiences with a style unique to him: beautifully crafted, engaging, witty, poignant, reflective and always disarmingly honest. Devamitra faces his test as a Buddhist, but he wears his Buddhism lightly, even though it is Buddhism that guides him through it.' – Subhuti, author of Mind in Harmony
Level Of Experience Needed: All
Led By: Devamitra, Satyadaka
Date/Time: October 18, 2022 - 7:00pm - 9:00pm
Suggested Donation: £5
Bookings
Please Note: No login is required to book
Bookings are closed for this event.